Do you have plans for Earth Day? Heading to the theatre to watch Revolution, the latest documentary by Rob Stewart, would be an entirely fitting activity.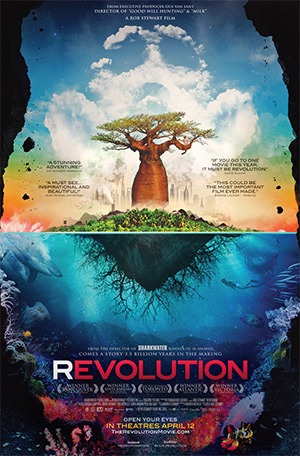 A couple of weeks ago, I was fortunate to be invited to an advance screening of Revolution.   This film debuted on the most screens ever for a Canadian documentary and has been blowing audiences away.  It's an important eye opening film that families should watch together.  It's beautiful, inspiring, discussion invoking, urgent and hopeful.  These adjective might seem at odds but trust me when I say that Revolution has a powerful message and embodies all of these qualities.  It's a must see film.  Take your kids.  You will not leave the theatre without being affected.  Rob Stewart struck an amazing balance between raising a red flag and putting out a message of hope.   The film tells us exactly how to fight to preserve the Earth's natural gifts.
There truly is no better time to go to the theatre and watch this powerful movie because in honour of Earth Weekend a tree will be planted on behalf of each and every person who sees Revolution between today and Monday.  Now that's walking the walk.
Details about this special tree planting initiative can be found here.
What I love most about this movie is its message of hope, a message so important for today's youth.  Revolution, in partnership with Metro has launched a scholarship contest for students with the best written or video essay on the topic of taking action – "What can you do to save the environment in your community."
This is a tremendous opportunity to empower our youth.  Take them to see the movie.  Discuss the issues.  Have them write an essay.  Take action as a family.
Get details about the scholarship contest here:.
So what are you waiting for?  Celebrate planet earth by seeing Revolution this weekend with your kids, friends, neighbours, family, person you meet in the lineup at the coffee shop and help plant a forest!  Together, we will make a difference.
Leslie Foster is President and Chief Fun Creator with Funatorium Explorium, a family entertainment company dedicated to creating experiences for families to engage in meaningful play and create lasting memories in the process. The company also offers in-school programs that make kids LOVE gym class. Leslie is a mom, wife, occasional writer and perpetual idea generator. She is also a friend to the earth and a lover of giving back. You can find her on Twitter @Funatorium and on Facebook at Funatorium Explorium.