Yesterday, I had leftover flank steak, slow-roasted tomatoes, caramelized onions, and green salsa in my refrigerator. What do you do when you have leftovers like that? You make a panini, that's what.
The truth is, I was thinking about posting a bunch of recipes for this great Hamilton Beach Panini Press I'm giving away, but then it occurred to me, I don't really follow recipes for paninis. You can make a panini out of pretty much anything. Our favourite around here lately has been PB&J on thick sliced multi-grain bread. Delicious! Or sliced turkey, with cranberry, provolone, and sweet mustard on marbled rye bread. And last night's was flank steak, slow-roasted tomatoes, carmelized onions, green salsa, a little mayo and mozzarella on a bun. Heavenly!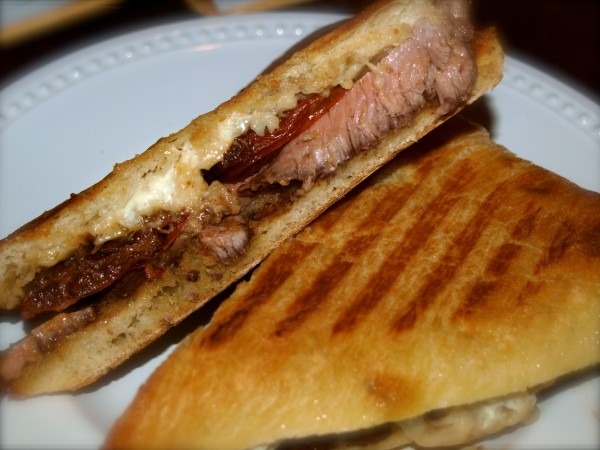 We've been test driving the Hamilton Beach Panini Press for a few weeks now and I'm sold. It's permanently set on my countertop now because it takes boring sandwiches and turns them into tasty gourmet paninis. It's fantastic for fast meals, it actually encourages me to get creative with combinations, it makes for fast clean up in the kitchen and it's a pretty fancy schmancy looking unit.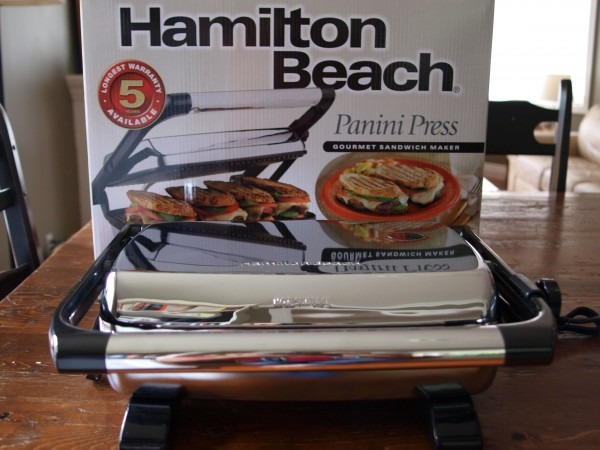 So, just in time for Back to School, I'm giving one of these away. By the way, this panini press is great for school lunches. We've been making extras for dinner and taking them for lunch the next day. But I digress. I'm giving one of these away. And all I want from you is this.......your panini combinations! Leave me your best panini combination in the comments and you'll be entered to win.
You can enter as many times as you like. Each combination must be submitted separately though. Please leave me your twitter handle if you have one. Open to Canadian residents over the age of 18, except Quebec. Contest ends at 11:59:59 pm on August 29th, 2012. Winner will be chosen using Random.org.