So, I have a sponsored post for VH Sauces through Mom Central. Along with some recipes to try, they sent along the latest copy of Canadian Living's Summer Entertaining Magazine. *Drool*. You seriously need to pick up this copy. Or you could just wait until I try every recipe in it. Although that could take years.
I'm a sucker for sweets. When I saw this recipe for Grilled Pineapple Sundaes with Rum Butter Sauce, I was pretty much done in. I whipped up my own homemade Vanilla Ice Cream and followed the directions. It was soooo yummy. Related, Rum Butter Sauce, may be addictive. I plan to use it for grilled bananas, crepes, baked apples, apple crumble pie, with brownies, as a drink…I kid, I kid. That would be silly.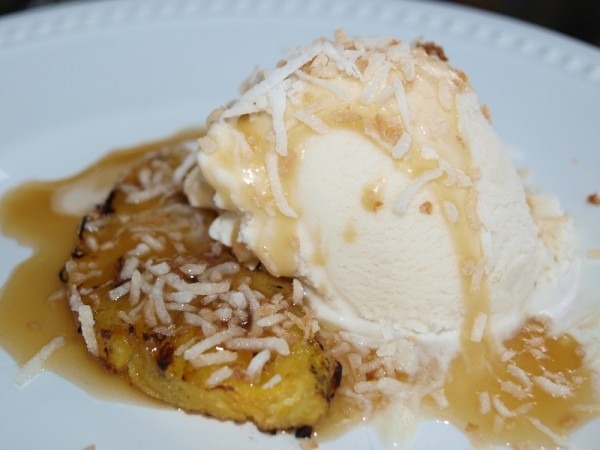 Grilled Pineapple Sundaes with Rum Butter Sauce
1 pineapple
2 cups (500 mL) vanilla ice cream
3/4 cup (175 mL) Rum Butter Sauce recipe
1/4 cup (60 mL) toasted shredded sweetened coconut
Cut off top and bottom of pineapple; cut off skin. Slice pineapple into 6 rings. Halve rings and cut out cores. Place on greased grill over medium-high heat; close lid and grill, turning once, until grill-marked and heated through, about 8 minutes. For each serving, top 2 pineapple pieces with ice cream. Drizzle with 2 tbsp sauce; sprinkle with coconut.
Rum Butter Sauce
1/4 cup (60 mL) unsalted butter
3/4 cup (175 mL) dark brown sugar
1/2 cup (125 mL) whipping cream
2 tbsp (30 mL) rum
1 pinch salt
In saucepan, melt butter over medium heat. Stir in sugar and cook, stirring, until simmering, about 4 minutes. Remove from heat. Whisk in cream. Return to heat and bring to boil; cook, stirring, until thickened enough to leave trail when spoon is drawn through, about 6 minutes. Remove from heat. Whisk in rum and salt. Let cool. Store any leftovers of this silky caramel sauce in an airtight container in the fridge. Reheat gently, stirring often, over low heat.
Pleasantville Note: Make your ice cream, sauce and toasted coconut ahead of time and all you'll have to do for your guests is grill the pineapple. Serve and impress.