Shopping for kids that aren't yours can be difficult at the best of times, throw in some distance and it can seem almost impossible. If you're like me though, you have kids across the miles that you regularly send gifts to. To me, it's important that I send a gift that will make them happy, make me look cool and is also age-appropriate. That's where Indigo Kids makes life easy. You don't even have to leave the house. I went shopping in my pajamas.
Simply go to the Chapter Indigo Kids website.
Et Voila! Could this get any easier?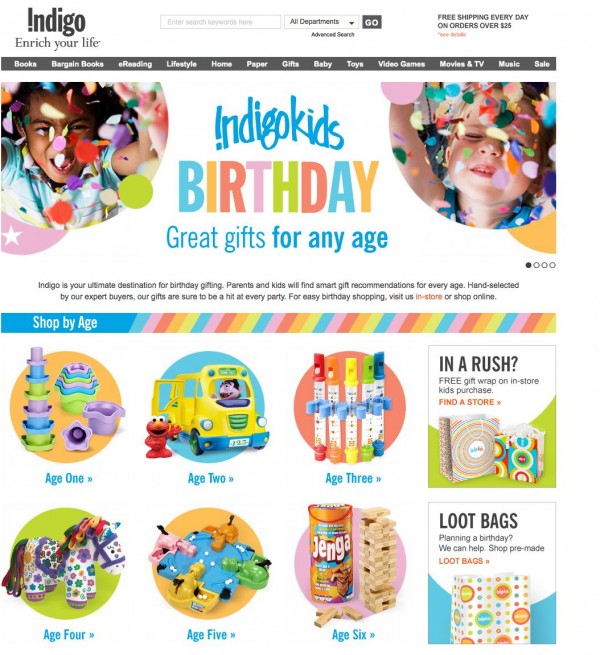 Click on the age you're looking for and tons of great toys, games and books pop up! All gifts have been hand-selected by Indigo Kids expert buyers, so you know they're going to be age-appropriate and totally deliver the wow-factor! I was shopping for a nine year old girl and loved the suggestions they had for Bananagrams, the Fashion Design Artist Tote and even The Game of Life. All great choices I'm sure any 9 year old girl would love.
In the end though I decided the gift that would be most from my heart would be books, something Indigo Kids know a lot about. Their Indigo Kids Books section is also broken down by age, making finding great books for kids easy peasy. In fact I've found every one of the books I placed on my Top Ten Books for Tween Girls at Indigo. This is what my order looked like when I was finished.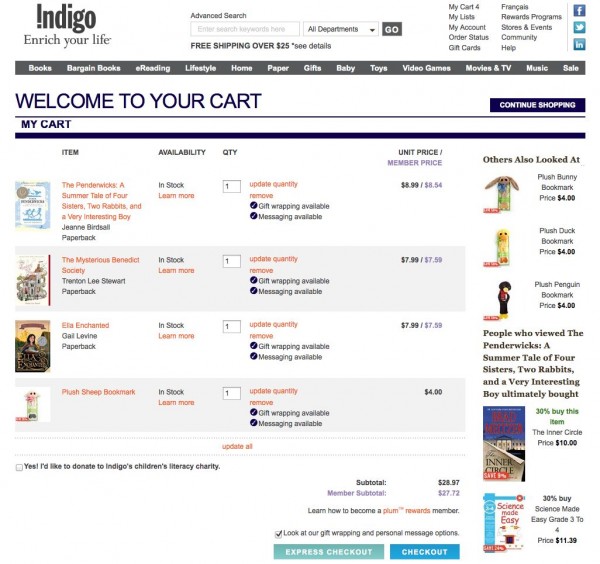 The Penderwicks, Ella Enchanted, The Mysterious Benedict Society and an adorable book mark all for under $30. I added gift wrapping and my order was just under $35 for everything. Plus, because my order was over $25 the shipping was free. And what kid doesn't like receiving a gift in the mail?
I know this one did.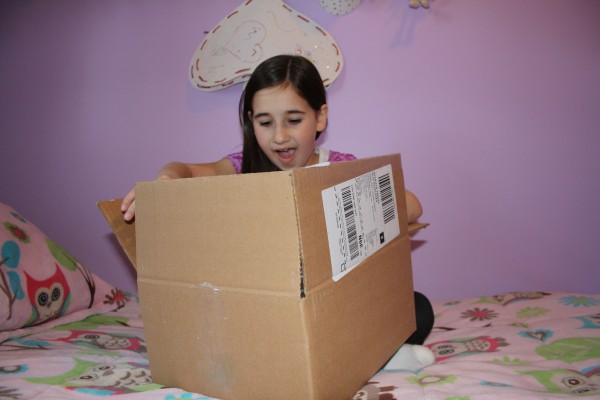 And I'm pretty sure she's thrilled with her new books. (Thanks to her Mom for capturing the moment for me)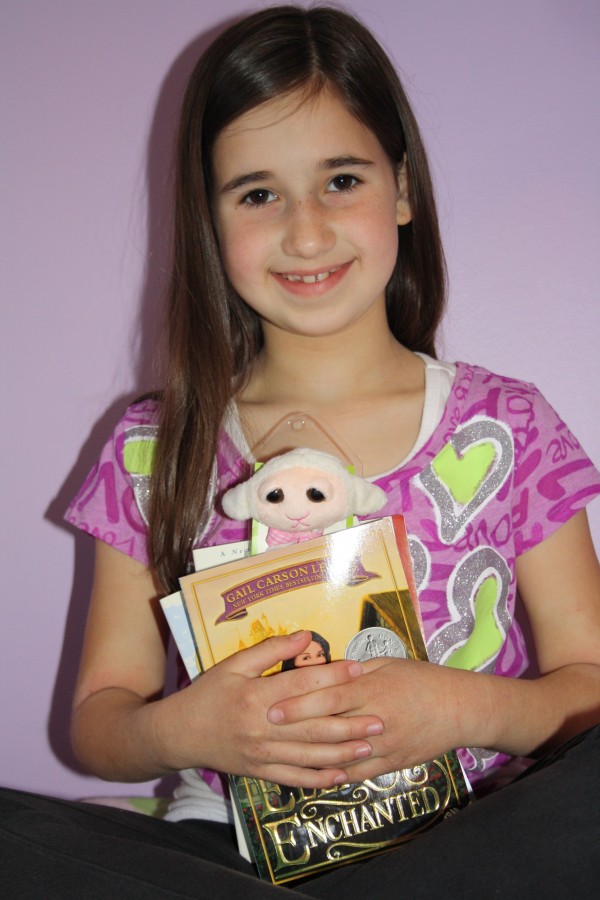 Chapters Indigo wants you to know how easy gift giving with them can be too and that's why they're offering one of my readers a $35 gift certificate. Simply leave a comment below telling me how you think Indigo Kids can be helpful to you. Giveaway is open to Canadian residents only. Winners can only win from one of several blogs currently running this contest through Mom Central. Winner will be chosen using Random.org. Contest closes April 23 at 11:59 PM.
Disclosure – I am participating in the Indigo Kids program by Mom Central Canada. I received compensation for my participation in this campaign. The opinions on this blog are my own.